3 DIY Melt and Pour Soap Recipes
5:00:00 AM
Lately I have been seriously obsessive about the soap making possess and I have come up with three lovely soap combinations for the melt and pour method. Now, if you are a beginner to soap making and you want a thoughtful, all-natural and adorable gift to give to your family, this holiday, then look no further.
Ginger Lemongrass Soap
I love these two scent. It's so soothing, especially when I'm stressed out or just need a pick me up.
4 oz
olive oil soap base
1 ml
lemongrass essential oil
1 ml
lemongrass fragrance oil
dried ginger shreds
Benefits of main ingredients
Lemongrass: it is a great for oily skin, it is skin toning cleaner and is considered a natural deodorant.
Ginger: it is great for reducing cellulite, it rejuvenates the skin and it fades scars.
Olive Oil: it contains three main antioxidants and it does not clog your pores.
Lavender Coffee Soap
This scent reminds me of the time I made coffee lavender latte. It was not only delicious but smelt amazing...yummy!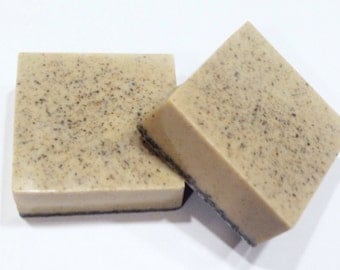 4 oz
shea butter soap base
1 ml
lavender essential oil
1 ml
lavender fragrance oil
fresh coffee grinds
Benefits of main ingredients
Lavender: it helps to reduce anxiety and emotional stress, it heals burns and wounds, it can improves sleep, it restores skin complexion and reduces acne and helps in slowing of aging.
Coffee: it can be used as a skin exfoliant, it can also soften your skin, reduces cellulite, tighten and brighten the skin and it is an anti-inflammatory.
Shear Butter: it is moisturizing, it reduces inflammation and smoothens the skin.
Goat Milk Charcoal Soap
Charcoal is the OG of beauty spa day for me. I take the pills, I use the face mask and of course the soap.
26 oz goat milk soap base
1/2 teaspoon activated charcoal
2 TBSP rubbing alcohol
0.4 oz any essential oil of choice
Benefits of main ingredient
Activated Charcoal:

it makes your pores smaller and cleaner, it is great for oily skin, it treat acne, it deep cleans your skin and soothe and heal bites, cuts and skin irritations.

Goat Milk: it is l

oaded with essentials, it treats acne and has anti-inflammatory properties.
- Cut soap base into 1 inch cubes for easier melting.
- Place cubes into a microwave safe bowl then cover with a plastic wrap and heat for 20-30 seconds intervals until melted. Each time remove bowl from microwave and stir and replace plastic wrap.
NB// The plastic wrap is to ensure that the soap base doesn't dry out.
- Stir in essential and fragrance oils properly.
NB// Not properly mixing in your oils will make it settle at the top of your soap, when harden, causing a oily soap bar. It also will shorten it's shelf life.
- Add exfoliant (coffee, ginger, etc) and mix well. Mix your charcoal with alcohol BEFORE you add it to your soap base.
NB// Not mixing your charcoal with alcohol will create charcoal clumps in your soap. The alcohol will evaporate from your soap during the curing process.
-Pour mixture into your soap molds.
-Spray the top with rubbing alcohol to remove surface tension (air bubbles).
-Let your soap sit for 24 hours or 1 hour in the fridge to cure.